Eurogroup: progress but no Greek reform deal yet
Comments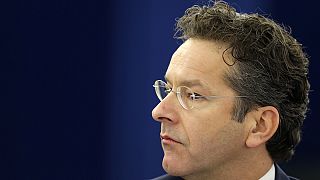 Eurozone finance ministers meeting in Amsterdam say there has been progress on a deal between Greece and its lenders but there is still some way to go and they will have to hold more discussions next week.
A deal is needed to unlock loans for the Greeks and enable vital debt relief talks.
The chair of the finance ministers group, Jeroen Dijsselbloem, said they're "hearing good news from Athens" on a Greek reform package.
But there is disagreement between Greece, the eurozone and the IMF on whether the measures, which include pension and income tax reform, will be enough to reach a sufficient budget surplus.
Greece has to reach a primary surplus target of 3.5 percent of GDP in 2018, but the International Monetary Fund does not believe it can do that with the current set of reforms.
Jeroen Dijsselbloem said Greece should prepare a package of additional measures to guarantee it will reach fiscal targets agreed with its international lenders to conclude the bailout reform review.
"We came to the conclusion that the policy package should include a contingent package of additional measures that would be implemented only if necessary to reach the primary surplus target for 2018," Dijsselbloem told reporters.
The Greek Finance Minister Euclid Tsakalotos responded that Greek law does not allow for "contingent measures" but talks on the issue are continuing.
Tsakalotos also said that any solution reached between Athens and its lenders in the coming days should be "credible for the lenders, investors and Greeks."