Pre-orders for Tesla's Model 3 at 276,000
Comments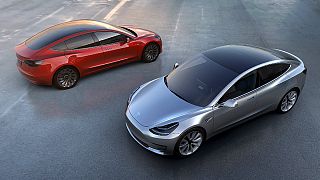 California-based Tesla Motors is being buoyed by bumper pre-orders of its Model 3 electric car.
Its founder and chief executive Elon Musk says they stood at 276-thousand at the close of play on Saturday.
276k Model 3 orders by end of Sat

— Elon Musk (@elonmusk) 3 April 2016
The car can be pre-ordered in a string of countries, including China, the UK and India.
The four-door compact car will cost 35,000 US dollars in the United States.
Pre-orders do not always translate into actual sales. All will become clear when the Model 3 starts to be delivered late next year.
It will face stiff competition from a new offering by General Motors with its latest Chevy Bolt and from Nissan which is updating the Leaf.
Both will have extended range to near enough match the Tesla Model 3's 215 miles (346 kilometres) and sell for similar amounts in the US.
A first ride in the Tesla Model 3: https://t.co/nENNkPChuNpic.twitter.com/sP58JiMEOu

— Forbes Tech News (@ForbesTech) April 3, 2016