Uber sues Indian rival Ola alleging fake accounts and false bookings
Comments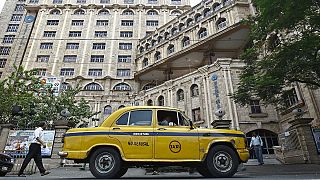 A ride-hailing battle is underway in Indian where Uber is suing Ola.
The American company accuses its rival of creating fake accounts and making false bookings to interfere with its business.
Uber has filed a lawsuit in the High Court of Delhi asking for an injunction and the equivalent of 6.6 million euros in damages.
It claims Ola created more than 90,000 Uber accounts using fake phone numbers, and over a six month period made – and then cancelled – over 400,000 false bookings.
A court hearing is due in September.
Ola has called the allegations "frivolous and false".
Two wheels good
Uber is investing heavily to compete against local ride-hailing services across Asia, including Ola in India.
Both Uber and Oba recently launched rival motorcycle-hailing services in Bengaluru, formerly Bangalore.
Ola, backed by Japan's Softbank Group and hedge fund Tiger Global Management, said its 'Bike Taxis' would help customers zip through traffic.
Uber's – developed specifically for cities in emerging markets – is called 'uberMOTO'.
India is one of the world's largest markets for two-wheelers. They are the most popular form of transport in its traffic-clogged cities, but schemes to rent a bike and driver by the kilometre are rare.