ECB government bond purchase warning
Comments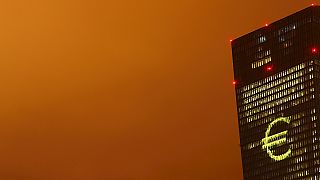 The European Central Bank is getting deeper into debt – government debt that is.
Analysts say Governor Mario Draghi's policies could mean the ECB ends up owning a quarter of all eurozone government bonds which risks distorting the market – reducing the number of bonds available to trade and pushing yields lower.
That is because it is expanding its quantitative easing programme to try to boost the region's economic growth and combat deflation.
Nicolas Forest, global head of fixed income management at Candriam Investors Group, said: "The fact is that quantitative easing has deteriorated bond market liquidity."
Quantitative easing is essentially printing money to buy those bonds.
It is estimated the ECB currently owns around 10 percent of the euro area government bond market and that will probably rise to 20 percent next year.
From April the ECB has said it will increase its bond-buying by 20 billion euros to 80 billion euros per month.
After their last meeting, the ECB's policymakers also said it would start buying corporate debt.
That move has pushed yields down sharply and unleashed a wave of issuance.
Analysts expect the ECB to buy three to 10 billion euros a month of corporate debt.
"Assuming they'll stop the QE programme in March 2017, our guess is that they might end up owning eight to 10 percent of outstanding corporate bonds," said Martin Van Vliet, senior rates strategist at ING.