Facebook executive's arrest in Brazil called 'extreme and disproportionate'
Comments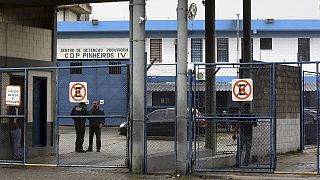 Facebook has denounced as "extreme and disproportionate" the arrest in Brazil of Diego Dzodan, its vice president for Latin America.
He is in custody for questioning in Sao Paulo state because a court ruled the social media site had ignored a judicial order relating to WhatsApp – the messaging service it owns.
The order is linked to a secret investigation involving organised crime and drug trafficking.
Privacy concerns have frequently put Facebook and other internet companies at odds with Brazilian law enforcement seeking evidence in criminal cases.
Last December, a judge blocked WhatsApp in Brazil for about 12 hours after it failed to comply with two court orders to share information in a different criminal case.
RT: Beaussieu_M: #Whatsapp indisponible au #Brésil suite à une décision de justice. pic.twitter.com/ZaUQu6Ss9Khttps://t.co/50ZODDhb0l

— #EidMubarak2015 (@raqooq5) 17 décembre 2015
In a statement about Dzodan's arrest Facebook pointed out that WhatsApp is an operationally separate company and claimed it could not technically provide the information that the police wanted.
"Facebook has always been and will be available to address any questions Brazilian authorities may have," it added.
WhatsApp is extremely popular in Brazil and is used by about half the country's population.
Brazilian courts have not shied away from targeting senior technology officials in the past.
In 2012, an elections court in Mato Grosso do Sul ordered the detention of Google's most senior executive in Brazil after the company failed to take down YouTube videos attacking a local mayoral candidate.