January eurozone inflation weaker than first thought, cheaper oil the main drag
Comments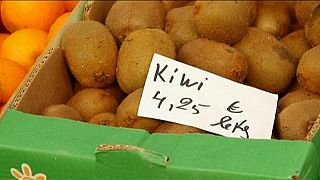 The spectre of deflation hangs over the eurozone as the European Union's statistics office revised downward its initial inflation estimate for January.
It seems consumer prices in the region grew 0.3 percent year-on-year rather than the 0.4 percent rise it had earlier estimated.
Euro area annual inflation up to 0.3% in Jan 2016 (flash est. 0.4%) #Eurostathttps://t.co/4PXOhBkMafpic.twitter.com/8QWQUpHtp5

— EU_Eurostat (@EU_Eurostat) 25 February 2016
That was a slight acceleration from December, when prices in the 19 countries sharing the euro rose 0.2 percent.
The slumping cost of crude oil remains a big element. Without volatile unprocessed food and fuel prices inflation rose 1.0 percent.
Energy prices were confirmed as the main drag on eurozone inflation. They dropped 5.4 percent in January on a yearly basis, more than the 5.3 percent decrease previously estimated by Eurostat.
The drop in energy prices is however slowing down from the 5.8 percent decrease recorded in December, a downward trend that started in October.
Unprocessed food drove prices up in the euro area with an annual 1.4 percent increase, which was however lower than the 1.8 percent rise earlier estimated by Eurostat. In December, unprocessed food prices increased by 2.0 percent.
The numbers increase the pressure on the European Central Bank for some kind of stimulus to push inflation up to the ECB's target of close to 2.0 percent.