Russia's central bank governor wants to lower risks from forex fluctuations
Comments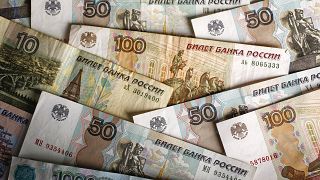 The woman with the difficult task of running Russia's central bank has been talking about risk.
Governor Elvira Nabiullina was speaking specifically about the risk of loans taken out not in roubles, but in dollars or euros.
She said the bulk of banking loans in Russia should be in roubles to minimise risks related to currency fluctuations.
"Sharp currency fluctuations which we have seen have shown that forex risks are very significant both for our banks and for borrowers," Nabiullina told Reuters in an interview.
Slumping oil prices and western sanctions have slammed the rouble which has lost over half its value against the dollar since September 2014.
The bank has tightening its regulations on foreign denominated loans and asked banks to set aside more capital against them and Nabiullina said it is now considering making banks set aside more reserves for retail and corporate forex deposits.
To try to protect the rouble it has taken drastic measures, including hiking the benchmark interest rate in December 2014 to 17 percent. The rate is now 11 percent.
In late January holders of foreign currency mortgages held protests at the banks where the loans were taken out.
In early February there were further protests in front of the central bank. About 100 demonstrators were demanding their loans be converted to rouble mortgages or that their repayments be recalculated to take account of the Russian currency's sharp fall.
In January 2015 the central bank did advise commercial banks to convert their clients' dollar mortgages into rouble ones using more favourable exchange rates but did not order them to.
Only a tiny percentage of Russian mortgages are not denominated in roubles.