OECD slashes economic growth forecasts for United States, Europe and Brazil
Comments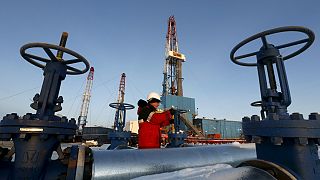 More gloomy predictions about the global economy have come from the Organisation for Economic Co-operation and Development.
It has cut its growth forecast for this year.
The think tank, which is funded by wealthy countries, expects the same level of growth as last year – 3.0 percent – which was the worst in five years.
OECDChief Economist Catherine Mann said governments must react urgently and spend more to boost growth: "Collective fiscal action on quality projects and more ambition on structural policies that would promote synergies through the private sector would raise global GDP growth and reduce financial risks."
Global #economies have flat-lined, urgent policy response needed: #OECD's CLMann</a> <a href="https://t.co/wywZhgVtRQ">https://t.co/wywZhgVtRQ</a> <a href="https://twitter.com/hashtag/growth?src=hash">#growth</a> <a href="https://t.co/aMRWJMI7zs">pic.twitter.com/aMRWJMI7zs</a></p>&mdash; OECD (OECD) February 18, 2016
The world's largest economy the United States suffered one of the biggest downgrades among major developed economies.
Its growth forecast for this year was cut to 2.0 percent, down 0.5 percent from last November's prediction by the OECD.
It was the same for Germany, Europe's largest economy, while eurozone growth is also expected to slow to 1.4 percent.
Among the largest emerging economies, Brazil was seen as a major victims of falling commodity prices, with a recession expected to be deeper than feared at -4.0 percent this year.
In a rare bright spot, the OECD raised its 2016 forecast for India's growth by 0.1 percentage points to 7.4 percent.