As oil prices slide, Venezuela raises fuel prices by up to 6,000%, devalues currency
Comments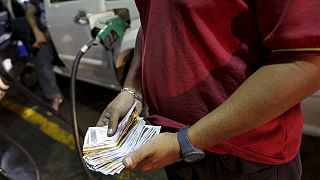 With his country mired in an economic crisis because of ultra low oil prices Venezuela's President Nicolás Maduro has devalued the currency and massively raised heavily subsidised fuel prices.
Venezuela has some of the cheapest fuel in the world. It has not gone up in almost 20 years. But even after a 6,000 percent price hike the highest octane petrol will cost only one bolivar per litre. By comparison a beer costs around 300 bolivars.
At service stations there was anger. Taxi driver Luis Moreno said: "I really don't agree with this, I strongly disagree. How's it possible that it will increase by so much? That's an exaggeration, how much is it going to cost to fill a vehicle's tank? I mean, this is absolutely absurd."
But on the other side of the pump, service station employee Orlando Acosta said the increase was acceptable: "It's necessary because of the situation the country is in. The state is losing a lot of money by subsidising fuel so this increase is only fair."
The Venezuelan currency – the bolivar – has lost 98 percent of its value since Maduro took office in 2013.
On the black market one US dollar will get you well over 1,000 bolivars but the official exchange rate is a fraction of that.
Announcing the devaluation the president said the official primary rate will go from 6.30 bolivars per dollar to 10 bolivars to the dollar. That is the rate used for food and medicine imports.
He added: "We have a duty to protect the people in fundamental terms, with health, medicine costs, and the most important – food."
Like fuel, food is subject to very restrictive price controls leading to empty shelves and massive shortages.
Maduro also announced a 30 percent hike in the minimum wage but with the official inflation rate at over 180 percent that is little consolation to the people.