Draghi attempts to strike an optimistic tone for the state of Europe at Davos
Comments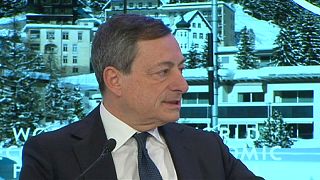 Head of the European Central Bank Mario Draghi, attending the World Economic Forum in Davos, has indicated that the ECB intends to step up its stimulus and defend and promote growth in the Eurozone in the coming months.
ECB boss Mario Draghi rejects global recession fears, says refugee crisis an opportunity: https://t.co/XRdqXFaCq4pic.twitter.com/PM7NYQSomm

— Guardian Business (@BusinessDesk) January 22, 2016
Despite pressure from falling oil prices and a slowdown in China, Draghi sees the ECB's role as central to recovery: "We basically see a recovery that is continuing at a modest pace, but a regular one. It's a recovery that is driven by consumption. The driver of the economy, is our monetary policy.
Modest is the right word in terms of Eurozone growth with first quarter of 2015 topping the table with a paltry 0.5 percent growth.
As for Greece Draghi said the situation had stabilised since last June with the Greek government making significant reforms and fiscal consolidation. He added there is still work to do on fiscal targets for 2018-19, sustainable pensions and financial sector reforms.
Oops… "graemewearden</a>: Not sure <a href="https://twitter.com/tsipras_eu">tsipras_eu 's conversation with Mario Draghi went very well http://t.co/fYatsjq5Vjpic.twitter.com/hfps2GjaPe"

— George Michalakidis (@georgiomic) July 7, 2015
Draghi believes the flood of refugees fleeing conflict will force governments to increase public investment in order to cater for migrants and that consensus on how to deal with the phenomenon will be reached.
At least 42 migrants drown as boats capsize off Greek islands: https://t.co/UGhkOAygn6pic.twitter.com/dN69EORKBF

— Reuters Top News (@Reuters) January 22, 2016