European stocks stabilise but global worries persist
Comments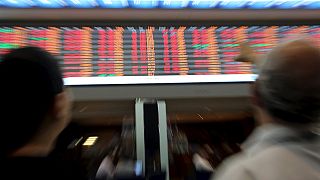 European markets opened the week on a rebound, clawing back some of the losses of the previous week, but the main market preoccupation continues to be the ever-declining price of a barrel of oil. By the close all the major markets were back in the red.
Some analysts are predicting oil could fall even lower to levels not seen this century, but also of concern is the simultaneous slowdown in the BRICS developing nations.
"We are coming from a position where China has been the consumer of first and last resort in commodity markets in general. And a lot of the incremental growth in global oil demand has come from China. And so when there are worries about Chinese growth
then we will see oil likely to take a hit," said BGC market analyst Mike Ingram.
While growth appears to be back in a modest way across the developed world many of the places where rapid growth could be expected are slowing down. This will hit consumer spending and capital investment, putting further pressures on growth prospects.
Observers point to a delicate market balance that could be tipped into trouble in the event of, say, a stock market crash.