European shares fall at the end of a rough week for markets
Comments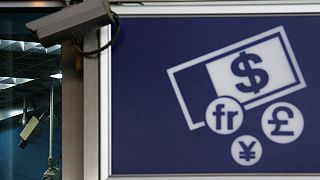 A day of mixed trading in the markets. European shares fell on Friday with lingering worries about China leaving the region's stock markets with stinging losses.
The pan-European FTSEurofirst 300 index was down 0.7 percent going into the close of trading and had dropped almost 6 percent for this week. London was flat, the DAX was down 1.3 percent.
Some calm at the end of a rough week after regulators in China suspended the newly-minted circuit breaker mechanism in a bid to calm panicky investors. But pessimism is still in the air.
"The market still faces selling pressure because the fundamentals have not changed. Chinese economic growth is slowing, and as evidenced by the slowing economic growth rate, and also there is a flight of capital from Asia," explained Francis Lun CEOGEO Securities Limited.
In China stocks swung wildly on Friday morning before staying in positive territory and ending the day up two percent.
Stocks and other risks got support from Asian markets after China nudged the yuan higher for the first time in nine days, easing fears it had lost control of the currency. In the US the economy added 292,000 jobs last month.