Boeing soars to record heights with deliveries
Comments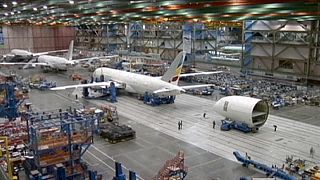 Boeing flies into its centennial year with a record. The company delivered 762 airplanes in 2015, 39 more than the previous year and the most in the history of the plane maker.
The figures look to have cemented its position as the world's biggest aircraft manufacturer and exceed the company's forecast.
But despite Boeing's record deliveries new orders fell by half last year. Airlines had been on something of a spending spree in recent years but cut back in 2014.
Rival Airbus is due to unveil its numbers on Tuesday, but it is not expected to exceed by many the 629 aircraft it delivered in 2014.