European shares fell sharply but came off lows after China suspends its circuit breaker mechanism
Comments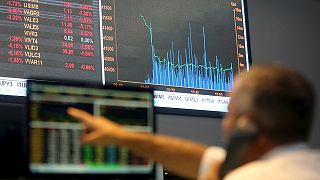 European markets fell sharply on Thursday after China accelerated the depreciation of the yuan, but came off lows after the Shanghai and Shenzen stock exchanges said it would suspend its new circuit breaker mechanism.
The Dax closed at just under 2.3 percent having dropped 3.5 percent in early morning trading. London closed down 1.9 percent
US stocks were lower on Thursday as the continued decline in oil prices rattled investors with benchmark Brent crude at just over 34 dollars a barrel. The Dow Jones Index was trading down at just over one percent.
"There's a lot of concern about the China slowdown, there's a concern about this devaluation and what it really signals with respect to an economy that many investors are already uncertain about the actual rate of growth and so there's a direct linkage in terms of this dislocation to what transpired last August," said Leo Grohowski Chief Investment Strategist, BNY Mellon Wealth Management
The scrapping of the circuit breaker in China didn't just help markets come off lows it has also said one analyst "given a little bump to risk appetite." Many believe the trigger levels were too low and too close to work effectively. A spokesman said it just didn't work as anticipated based on actual situations.