Ferrari debuts on the Milan stock market
Comments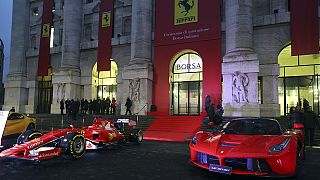 Debut day for Ferrari…on the Milan stock exchange. The iconic marque completed its spin off from Fiat Chrysler Automobiles on Monday. Ferrari first listed in New York under the ticker RACE and was priced at 52 dollars in October when FCA sold 10 percent of the company.
The listing marks the legendary brand's emergence as an independent company for the first time in 47 years.
"The scission from the FCA group formally ratifies the independence that Ferrari has always had, even if being part of the automotive group. An independence that has been operational, partly financial, but that is now necessary to maintain the uniqueness of the models and the Ferrari brand, guaranteeing the full development of its potential," said Sergio Marchionne, Chairman of Ferrari and CEO Fiat Chrysler.
Shares opened at 43 euros before dropping to 41.75 euros and then climbing again to 42.37. As a unit of Fiat Chrysler the super car maker was a cash cow. In 2014 it reported a net profit of 265 million euros.- revenues grew seven percent between 2005 and 2014.
"Ferrari didn't have to list itself on the stock exchange, this was more a financial operation, in order to allow Fiat to consolidate part of its debts and also to have free hand to merge, potentially finding interesting partners for Fiat but without giving away Ferrari," explained Eduardo Liuni market analyst at Trading Room Roma.
The deal was structured so the Ferrari family with a 10 percent stake and the Agnelli family with 23 percent could retain control of the famous prancing horse.
Both have signed a deal intended to protect the business from a hostile takeover.