Star Wars breaks box office receipts in first weekend
Comments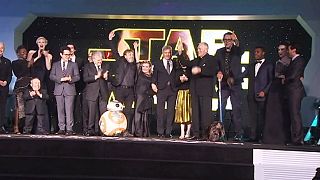 The Force well-and-truly awakened box office tills at the weekend, as the latest Star Wars movie rang up record-breaking receipts.
Figures for the US and Canada show reveal takings of $238 million (218 million euros) – topping the $209 (192 million euros) raked in by "Jurassic World" in June.
Add to that $279 million (256 million euros) in overseas takings since last Wednesday and worldwide total receipts for Star Wars: The Force Awakens stood at $517 million (475 million euros) on Sunday.
There are hopes the film could boost the domestic film industry in the US which has seen little audience change in the past decade.