Sweden 'on way to becoming cashless society'
Comments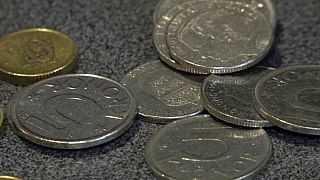 Cash is falling out of favour in Sweden, according to a research study at the Royal Institute of Technology in Stockholm.
Many Swedes like people everywhere remain attached to their currency, the krona, which has been used since 1873.
However, it seems the embrace of technology in the country means the use of cash is diminishing rapidly.
While card payments have increased, the amount of cash in circulation has fallen by a quarter in six years despite an annual growth in the economy.
Some believe one day physical money may disappear altogether.
"Previously I have always said that around the year 2030 Sweden will, in effect, become cashless – meaning that cash will cease to play any real role in the society. It might still exist in theory but would not play any financial role. But when I look at the developments over the last two years, then I actually think that it will happen faster. We might see it happening in ten years, or even faster than that," said Niklas Arvidsson, an associate professor at the Royal Institute of Technology.
Other people believe that if cash does disappear, a part of Sweden's national identity will go with it.
"Money plays a part in the formation of a national identity, 'I have money that comes from my country'. There is a certain pride in it and a pride when you can exchange it for other money – like dollars or other currencies. So I think there is some kind of national value and national pride in having money," said Torbjoern Sundquist, curator at the Royal Swedish Coin and Economics museum.
Will everyone adapt to the new world? Sweden's National Pensioners Organisation says many of its members are falling behind in the increasingly cashless society.
It's calling for gradual rather than abrupt change to avoid a clash of generations.