'New jobs plan' for France after National Front election scare
Comments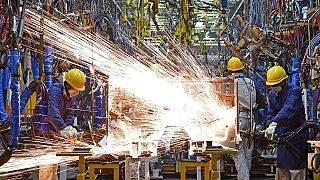 The French government is reportedly promising new measures to boost employment in the wake of the regional election results which saw a record score for the National Front (FN) – a wake-up call for the political mainstream.
The prime minister's office would not comment on reports of new employment measures but a senior source has been quoted as saying that a jobs package is being drawn up.
A spokesperson at the Economy and Finance Ministry told AFP that the Economy Minister Emmanuel Macron would present proposals on strategy to Manuel Valls during the week.
Various measures put into place over the last two years – such as assisted contracts, recruitment bonuses, labour cost reductions – have failed to reverse the upward trend in unemployment.
The sluggish economy and mass unemployment contributed to the FN's success, along with fear of immigration, opposition to Europe and distrust of the establishment.
Despite the far right party's lead after the first round of the elections, it failed to break through and win control of any regions – to the relief of many observers and analysts.
Its policies on many issues including the economy, debt, and wanting to leave the EU and the euro are widely seen as catastrophic.
"With the result at the weekend really squashing Le Pen and the prospects they have for any serious role in government in the near future, investors will, I think, be relieved that France is set for a more moderate course as it looks to revitalise its very important economic prospects for 2016," said Matthew Beesley, Head of Global Equities at Henderson Global Investors.
#Front National fails to win a single region in local elections in #France but got its highest number of votes ever.
https://t.co/6xmE1PV9b1

— EUobserver (@euobs) December 14, 2015
The European Commission's figures and predictions for the French economy show that it is improving, but the recovery is described as "timid".
GDP is expected to "gently accelerate" over the next two years. Unemployment at 10.4 percent is far worse than Germany's rate of 6.3 percent, and nearly a quarter of French youth are out of work.
The steady reduction of the budget deficit (predicted to fall to 3.4 percent of GDP in 2016 from 3.8 percent this year) is seen as under threat from state spending and local authority investment.
Just before the regional elections the socialist administration was hit by revelations that unemployment had hit an 18-year high.
The government said on Monday that the election results would make no difference to plans for the minimum wage.
It is due to rise by just 0.6 percent in January, or six euros a month.
French elex at micro-level,color-coded IfopOpinion</a>: Ifop-<a href="https://twitter.com/Coheris">Coheris Liste en tête T2 ds les communes #Regionales2015pic.twitter.com/5CKkFM3XJZ"

— François Heisbourg (@FHeisbourg) December 14, 2015
French elections — 5 takeaways https://t.co/xTHUlLIkQc#Regionales#FrontNationalpic.twitter.com/gHBcHy8bQK

—

POLITICO

Europe (@POLITICOEurope) December 13, 2015