Oil and currency gloom brings Christmas cheer... cheaper trees!
Comments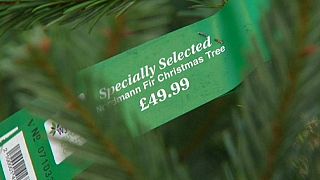 Amid the dark talk of debt crises, the huge oil surplus, growth slowdowns and currency problems there is some light and seasonal cheer – at least in Britain.
Thanks to some of those problems Christmas trees could be a bargain due to weak currencies in Denmark and Norway, two of the biggest tree-producing nations.
"The euro has an effect on pricing, and we've been able to deliver prices as much as 13 percent cheaper for our customers and then hold them for the 2015 season. So it's great news for our customers," said David Mitchell, Christmas tree buyer at Wyevale Garden Centre in London.
The Danish krone is pegged to the euro which is down against the pound – while the Norwegian krone has been weakened by the drop in Brent crude oil prices.
Some specialists estimate the cost of Christmas trees for UK importers has fallen by up to 16 percent compared with last year.
Britain imports up to 1.6 million Nordman Fir trees from Denmark which account for around 80 percent of the total sold in the UK.
But some analysts fear prices won't be brought down; and consumers will pay the same as last year while retailers pocket all the gains.
Richard de Meo, managing director of foreign exchange specialists Feonix Partners, was quoted as saying the exchange rate heralded a happy Christmas for the UK horticultural sector.
But he added, while some retailers might pass on the savings to their customers, "it's more likely that prices will be kept in line with last year and UK sellers will simply absorb the gains".
A warning that not all in the industry may be ready to enter into the generous spirit of Christmas.