Saudi Arabia unfazed as OPEC set to keep oil output high
Comments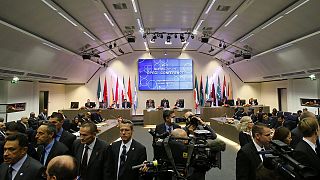 OPEC members have been meeting in Vienna with the oil producers' organisation widely expected to do nothing to tackle one of the worst crude gluts in history.
Poorer members have been putting pressure on richer nations to cut overproduction that has sent prices crashing.
But the largest producer Saudi Arabia and its Gulf allies are expected to resist – despite a recent change in tone.
"We are going to show that we are ready to cooperate and work with those who seek stability in the market," said the Saudi Arabian oil minister Ali al-Naimi.
The minister described as "baseless" reports that the Saudis might be ready to adapt policies and push for a global deal to curb supply.
The Saudis have previously said they would be prepared to consider a cut only if others did so too – notably OPEC members Iran and Iraq, and non-member Russia.
Moscow repeated this week it saw no chance of joint actions.
Iran has said repeatedly it intends to boost its own oil production by one million barrels a day when sanctions are lifted.
"I'm realistic," said Iranian oil minister Bijan Zangeneh. When asked what that meant, he laughed. "It's a political word. I don't believe members are ready to cut (output)."
Zangeneh estimates the global market is oversupplied by as much as two million barrels a day. He said Tehran would be ready to discuss quotas or other action only when his country reached full output levels, when and if sanctions are lifted next year.
Iraq also intends to raise output next year having sharply increased production in 2015.
Five things to know about Friday's OPEC meeting in Vienna https://t.co/afOlj9zpIi

— FuelFix (@fuelfixblog) December 3, 2015
The major OPEC members' policy seems aimed at driving higher cost producers such as US shale oil firms out of business – even though the price crash has decimated the budgets of OPEC's own members.
Euronews correspondent Daleen Hassan reported from Vienna:
"Despite the fact that most analysts here expect that OPEC will not change the current production policy, the discussions and exchanges of views among members are still going on. The question now is whether the ministers will be able to reach a satisfactory result for all OPEC countries to alleviate the constantly bleeding oil prices."
The oil price is tumbling. Feeble demand and big supply shock are the reasons http://t.co/fboR9WaiNH#oil#opec#gaspic.twitter.com/gTRjinDoyN

— Drilling Reporter (@DrillingR) 18. Oktober 2014