ECB cuts deposit rate with further stimulus measures expected
Comments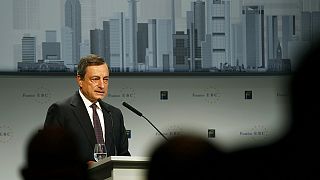 The European Central Bank has begun taking stimulus measures in a bid to boost inflation and the eurozone's recovery.
Ahead of a news conference to be given at 1430 CET by the bank's President Mario Draghi, the ECB has announced that it's keeping interest rates on hold at 0.05 percent.
But the main bank deposit rate has been cut further into negative territory – from -0.2 to -0.3 percent, charging banks more for parking cash with the central bank in a bid to boost lending.
Further measures could include changes to the ECB's asset buying programme.
Stimulus measures have been on the cards. On Wednesday expectations were heightened further when inflation slowed – with the annual rate remaining well below the ECB's target of just under two percent.
The euro has weakened nearly seven percent against the dollar since the bank's last meeting in October.