Spain's unemployment falls by 27,000 ahead of election
Comments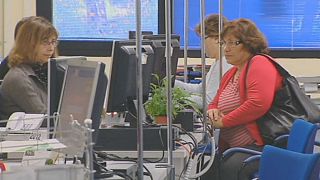 After rising over three months, unemployment in Spain fell in November – providing a welcome headline boost for the government less than three weeks before a general election.
However the wider picture concerning the jobs market and the economic recovery is more contentious.
Just over 27,000 fewer people were registered as jobless than in October. The total number out of work is listed at 4.15 million – that's still over 21 percent of the workforce, the highest in the EU bar Greece.
Spain's centre-right government has focused its campaign on employment, promising two million more jobs over five years.
Unemployment – which rocketed after the financial crisis hit – is lower than it was when it took office – but so is the number of people in work.
Spanish unemployment drops by 27,071 in best November since series began https://t.co/yKnY0lKWykpic.twitter.com/EKQtegFcUC

— El País in English (@elpaisinenglish) 2 Décembre 2015