IMF allows Chinese yuan to enter the jet set currency club
Comments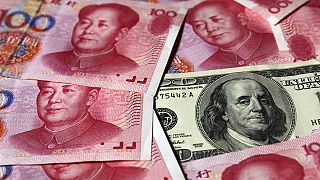 The IMF has accepted the Chinese yuan into the club of elite currencies.

IMF set to put yuan in reserve currency basket https://t.co/h7quutjx6ypic.twitter.com/w7meHPtER0

— Press TV (@PressTV) November 29, 2015
It marks a turning point for China and its acceptance as a global economic power.
Managing director of the IMF is Christine Lagarde:"The addition and the inclusion of the renminbi in the SDR basket of currencies is a recognition of the significant reforms which have been conducted, of the significant opening up of the Chinese economy, of the financial, more market-driven principles that are being used by the Chinese authorities going forward."
For Beijing this is about prestige and will allow China to challenge the economic dominance of the US.

The IMF is on the verge of labeling China's yuan a reserve currency: https://t.co/aaj3Xf79W2pic.twitter.com/6DOanN7V1h

— WSJ China Real Time (@ChinaRealTime) November 30, 2015
The yuan joins the dollar, euro, pound and yen in the basket.
The IMF decision, which comes into effect towards the end of 2016, is largely political to be used as a tool to encourage economic changes within the world's second largest economy.

IMF to make China's Yuan reserve currency after Monday vote https://t.co/2ie3AdBMAOpic.twitter.com/izlN6nt7K1

— Sputnik (@SputnikInt) November 30, 2015
It also allows closer scrutiny of the currency as the government begins a liberalisation of its tightly controlled exchange rate and financial system.