Russia-Turkey trade in question as Moscow to 'reconsider' ties with Ankara
Comments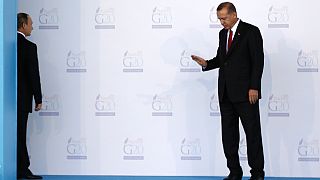 Less than a year ago the Russian and Turkish leaders Vladimir Putin and Recep Tayyip Erdogan set aside differences over foreign policy, signing a series of major trade and energy deals in the Turkish capital.
It will be difficult to see how this will persist over the longer term. Both sides have too much to lose to have a real fall-out
Now amid the row following Turkey's shooting down of a Russian jet on the Syrian border, Russian Foreign Minister Sergei Lavrov has said Moscow is to "seriously reconsider" its relations with Ankara.
There's concern that business between the two countries is at risk. Much is at stake.
Turkey-Russia trade
2014: $33 billion
2020 (target): $100 billion

— ian bremmer (@ianbremmer) November 24, 2015
Russian tourists are the second-highest group visiting Turkey after German holidaymakers. In 2014 there were 4.4 million Russian visitors, mainly tourists.
Russia is Turkey's main gas supplier, is among its top suppliers of oil. Turkey is the joint largest buyer of Russian wheat.
Last year four percent of Turkish exports, mainly textiles and food, went to Russia – although they fell by 40 percent between January and September this year.
"It's undoubted that if they (the Russians) really decided to go all out on economic sanctions, and other moves, then you would have an impact on Turkey's economy. They're already talking about the potential deals that might be pulled as a result of this," said Chris Beauchamp, Senior Market Analyst at IG. "But really, I think the Russians and the Turks, while they will talk about it, it will be difficult to see how this will persist over the longer term. Both sides have too much to lose to have a real fall-out."
In 2014, as Russia's relations with the West deteriorated over Ukraine, Moscow and Ankara maintained close contact and economic ties between the two countries looked set to deepen.
The atmosphere has now changed. On Tuesday Russia's Foreign Minister Sergei Lavrov advised Russians not to visit Turkey, saying the threat of terrorism there is no less than in Egypt.
Russians had been turning to Turkey after a bomb brought down a passenger plane over Egypt last month.
The effect may be limited as Turkey is now in the off-season.
However the two countries have common energy projects on the go including the TurkStream pipeline plan.
Turkish firms are active in the construction and drinks industries.
Shares in Enka Insaat, which has construction projects in Russia and two power plants in Turkey using Russian gas, fell for a second day on Wednesday.
Brewer Anadolu Efes, which has six breweries in Russia and controls around 14 percent of the market, also saw its shares fall on Tuesday.
But whether the war of words between the two countries will translate into any lasting economic damage is far from certain.
#Lavrov: We're not severing ties with #Turkey, my phone conversation with their FM is proof https://t.co/BcgNQNS4Wn
#BackStabbed#Su24

— Sputnik (@SputnikInt) 25 Novembre 2015