Metal prices plunge amid concern over Chinese economy
Comments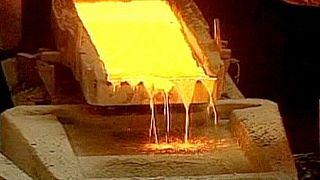 Metal prices have tumbled to their lowest levels for years as commodities bore the brunt of another sell-off.
It reflects growing worries over China's economic slowdown and the strengthening dollar, which has cut the buying power of other currencies ahead of an expected US interest rate hike in December.
Copper has plunged to below $4,500 (4,235 euros) a metric tonne for the first time in six years.
Nickel slid nearly six percent to its lowest since 2003. Lead and aluminium also plummeted to levels not seen for several years.
It's thought demand is unlikely to pick up before the end of the year as producers and manufacturers look to conserve their cash flow rather than restock.
Oil prices also went tumbling. US crude slid as much as three percent to below $41 (38.5 euros) a barrel. Brent fell as much as two percent to under $44 (41.35 euros) as concerns about over-supply persisted.
But they later rallied on Monday after reports that Saudi Arabia was ready to cooperate with OPEC and non-OPEC producers to maintain stable prices.
The country's official press agency said the matter had been discussed in cabinet.
The world's largest crude producer has been pumping record amounts of oil as OPEC concentrates on defending market share.
#Metal Prices collapse
#platinum#palladium#zinc#tin#lead#copper#aluminium#gold#silverpic.twitter.com/jbXdNcFSHN

— Greco (@ttrgreco) 9 Novembre 2015