Draghi says ECB will do what it must to boost inflation
Comments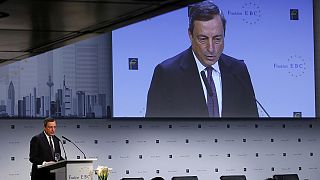 Mario Draghi has said the European Central Bank is ready to act quickly to boost inflation in the eurozone.
The comments by the bank's president at the European Banking Congress in Frankfurt are the strongest hint yet that fresh stimulus measures can be expected at its December meeting.
The aim being to stop inflation from falling further below the official target of just under two percent.
"If we decide that the current trajectory of our policy is not sufficient to achieve our objective, we will do what we must to raise inflation as quickly as possible. That is what our price stability mandate requires of us," Draghi told the congress.
Prices rose just 0.1 percent in October, despite the ECB's efforts to boost inflation, including the purchase of 60 billion euros of government bonds each month since March.
Now all options are open.
"If we conclude that the balance of risks to our medium-term price stability objective is skewed on the downside, we will act by using all the instruments available within our mandate. In particular we consider the asset purchase programme to be a powerful and flexible instrument as it can be adjusted in terms of size, composition and duration to achieve a more expansionary policy stance. The level of the deposit facility rate can also empower the transmission of the asset purchase programme not least by increasing the velocity of circulation of bank reserves," Draghi said.
Draghi said the quantitative easing asset programme had brought down borrowing costs for eurozone companies.
The ECB's president added that the bank might change the level of its deposit rate – currently negative in a bid to encourage banks to lend.