Telegram messaging app struggles to block ISIS sites
Comments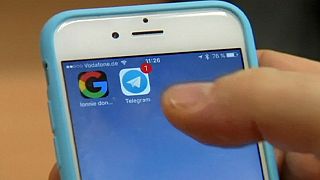 Stung by revelations that ISIS was using the ultra-secure messaging app Telegram, the Berlin-based service has been racing to shut down dozens of channels used by the group to spread propaganda and recruit members.
Telegram Messaging App Acts to Block Islamic State Sites https://t.co/AU7XFuVM5Q

— Pavel Durov (@durov) 18 Novembre 2015
But despite the move hailed by founder Pavel Durov, reports say no sooner has one channel been removed than many others are popping up in its place.
One analyst from a prominent hackers' group says blocking or breaking encryption methods is not the solution.
"Encryption is everywhere. What's App is encrypted, banking systems are encrypted… if we say 'we must be able to break encryptions as a state regulator' it'll only lead to all citizens being tapped – but not the criminal terrorists because they use unbreakable encryption," responded Frank Rieger of the Chaos Computer Club, which describes itself as Europe's largest association of hackers.
Two months ago a new public broadcast feature of Telegram became the preferred communication method for ISIS.
The group used it to claim responsibility for the Paris attacks and the bombing of a Russian airliner over Egypt.
Some channels gained thousands of followers.
Telegram explicitly says it makes efforts to block ISIS, but unlike Twitter it is accused of having done nothing until this week to prevent it from operating.
We could identify and block these public channels thanks to reports you sent to abuse@telegram.org. Thank you! https://t.co/i0My3D4Nxa

— Telegram Messenger (@telegram) 18 Novembre 2015
Encryption Is Being Scapegoated To Mask The Failures Of Mass Surveillance https://t.co/Sfaqia9tKY by riptari</a></p>&mdash; Pavel Durov (durov) 18 Novembre 2015