France fears economic impact of Paris terror attacks
Comments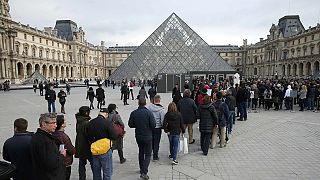 Beyond the appalling human cost – quite naturally the focus of everyone's attention – France is bracing itself for the economic impact of the Paris terror attacks.
It's too early for figures – but the reports of fewer people in shops, cafés and restaurants, and cancelled reservations are bound to have an effect.
The weeks following the January attacks brought a drop in revenue in the Paris region. There are fears that the latest death squad rampage may bring a downturn that threatens France's recovery.
"In the short term investors would be concerned on two fronts. First they will worry about the impact on sentiment and sentiment affecting both consumer spending but also corporate investment intentions, particularly in the areas of hotel and aeroplane traffic. Over the longer term there may be a tightening of borders, perhaps ultimately ending up with some disagreement on trade and free trade and that would be bad news for the global economy," said CCLA's Chief Investment Officer James Bevan.
France is the world's most popular tourist destination. This weekend in Paris shopping and sightseeing went quiet. Prominent tourist sites and department stores closed altogether.
The peak season for Asian visitors is approaching. The Malaysian Chinese Tourism Association was quoted as saying there had been no widespread
cancellations so far – but fears the impact of tighter security checks, for example.
Some Paris hotels have reported annulments – one said there had been a wave of cancelled reservations within 24 hours.
Shares in hotel operator Accor fell by as much as nine percent on Monday morning.
Airline shares were also down- on the first day of trading since the atrocities – Air France-KLM fell as much as 7.2 percent.
The Paris stock market opened as usual and was only slightly down.
Some experts say one encouraging lesson from the 9/11 attacks in America was that although terrorism did knock the economy, the impact did not last.