Beer giants AB InBev and SABMiller agree terms for mega merger
Comments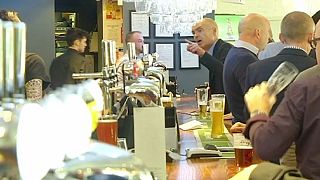 The mega beer merger is a step closer. The world's biggest brewer AB InBev has launched its bid of over 100 billion dollars for its nearest rival SABMiller.
To make the deal possible, SAB Miller has agreed to sell its stake in its US joint venture MillerCoors.
The merger will combine AB InBev's Budweiser, Stella Artois and Corona brands with SABMiller brands like Peroni and Grolsch.
The new giant will brew almost a third of the world's beer, dwarfing rivals Heineken and Carlsberg.
The deal will enable AB InBev, which expects to make annual savings of $1.4 billion, to enter lucrative markets in Latin America and Africa.