IEA warns low oil prices may threaten energy security
Comments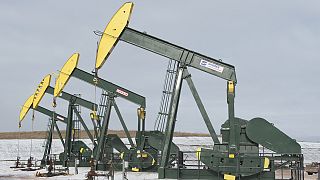 The International Energy Agency (IEA) says the price of oil is unlikely to return to $80 a barrel (74.83 euros) before the end of the decade.
This is despite unprecedented declines in investment, with the IEA estimating that yearly demand growth will be well under a million barrels a day until 2020.
In its latest World Energy Outlook the agency estimates that a 20 percent drop in investment this year is likely to be repeated in 2016. It says an extended period of low prices would trigger energy-security concerns b heightening reliance on a small number of low-cost producers.
"A period of low oil prices is the moment to reinforce our capacity to deal with future energy security threats," said IEA Executive Director Fatih Birol.
The agency estimates that high-cost producers in Brazil, Canada and the US are likely to fall victim to low oil prices – and the Middle East could see exports grow from around a third to two-thirds of global supply.
The drop in price to around $50 (46.76 euros) a barrel has triggered steep cutbacks in production of US shale oil, one of the major contributors to the oversupply that's stripped 50 percent off the price in the last 12 months.