Slow Greek reforms cost Athens latest two billion euro aid package
Comments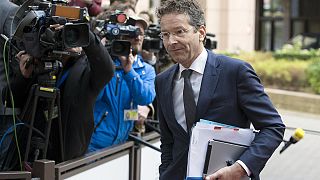 The EU has withheld the latest two billion euro tranche of aid to Greece, destined to pay civil service salaries, because allegedly Athens has fallen behind on reforms.
The Eurogroup is angry Greece is insisting on more protection for home loan foreclosures, and parents hit by a 24% VAT on private schools, among other things.
"Time is limited we need to complete that first set of milestones. It needs to be done very quickly and also some of the prior actions for example regarding the governances of the banks, the future governance, needs to be sorted out, so there is a lot of time pressure, but also on the optimistic side a lot of work has been done and is being done," said Eurogroup President Jeroen Dijsselbloem.
The Greeks are also dragging their heels on making people who owe the state money pay up quicker; all reasons the eurogroup insists justify making the Greeks wait to get paid, as Brussels has had enough of what some are claiming is throwing good money after bad.
The cash freeze is an unwelcome development in the Greek crisis, which has never really gone away, and European leaders will be hoping it does not roar back to centre stage as 2015, an annus horribilis for EU politics, draws towards to a bed-tempered, fractious end.