OECD returns to revisionism with growth downgrade
Comments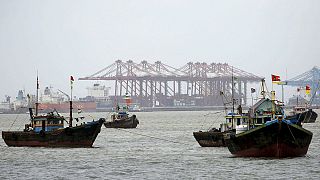 The Paris-based Organisation for Economic Co-operation and Development has issued another gloomy outlook for the global economy, its second in a row.
It says global trade flows are way down to levels normally seen in recessions, and 2015 growth forecasts have been cut again, to 2.9%. This time last year the OECD was predicting 3.7%.
However aspects of Chinese stimulus policy and other factors are leading the OECD to forecast a better 2016 for growth, even though these figures are also revised down from earlier estimates.
Oil-shocked 1975, Thatcherite-squeezed 1982-3, 2001 9-11 and the 2009 financial crash. These are the only other years global trade has been so slack.
The OECD still thinks the US should go ahead with an interest rate rise before the end of the year as it and Europe's economies are now picking up steam at the moment the emerging markets, led by China, are feeling the strain.
Growth there will only start to seriously flag in 2017 says the OECD, but lack of Chinese demand means America will drive the world economy; except that stagnant wages there means consumption and demand are currently flat.