Asylum seekers 'can boost economy in short term', says European Commission
Comments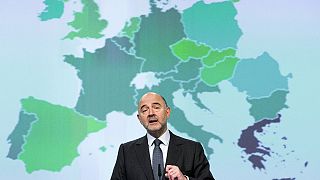 The European Commission has predicted that the growing number of asylum seekers entering the EU will have a positive impact on growth in due course.
Estimating in its autumn economic forecast that their arrival could have a "small, positive economic impact", it says that increased public spending and labour supply should benefit the economy, as long as the "right policies" are put in place to allow migrants to work.
The Commission has cut its growth and inflation forecasts for the eurozone for the coming years, while predicting that the recovery will continue at a modest pace.
Describing this year's progress as resilient but slow, it predicts that growth over the next two years will resist new challenges such as the slowdown in emerging markets.
From an estimate of 1.6 percent in 2015, euro area GDP is forecast to pick up progressively. For the EU as a whole, the anticipated figures are slightly higher. Better employment, disposable income and credit conditions plus higher investment are expected to help.
Learn about future of EU's growth, inflation, employment & more #ecforecasthttps://t.co/Sr93RwItUCEU_Commission</a> <a href="https://t.co/yc2FU5rv3O">pic.twitter.com/yc2FU5rv3O</a></p>&mdash; Pierre Moscovici (pierremoscovici) November 5, 2015
Inflation has been kept down by the steep fall in oil and other commodity prices, the Commission says.
But it points to wage growth and stronger private consumption as being among the factors putting upward pressure on prices.
Annual inflation in the eurozone is tipped to rise from 0.1 percent this year to one percent next, and 1.6 percent in 2017. The estimated figures for the rest of the EU are slightly higher.
Unemployment is expected to come down only gradually. The Commission says the labour market has been improving at a slow and uneven pace across EU member states – predicting that countries which have introduced reforms in the area should benefit.
Autumn #ecforecast shows that #investment is strengthening but still a lot to be done. #investEU can help with this. pierremoscovici</a></p>&mdash; Jyrki Katainen (jyrkikatainen) November 5, 2015
The European Central Bank's stimulus measures are thought to have helped the recovery, as well as low oil prices and the euro's weak external value.
With eurozone prices flat and inflation still below official targets, it's widely thought the ECB will ease monetary policy further in December.
There has been some comment in the British press that the Commission's forecast takes no account of a possible British vote to leave the European Union in a referendum due before the end of 2017.
How's your country's economic growth rate? Compare all EU states with ecfin</a>&#39;s <a href="https://twitter.com/hashtag/ecforecast?src=hash">#ecforecast</a> → <a href="https://t.co/Biz8cOpFFp">https://t.co/Biz8cOpFFp</a> <a href="https://t.co/1rOjhpmbUR">pic.twitter.com/1rOjhpmbUR</a></p>&mdash; European Parliament (Europarl_EN) November 5, 2015