Spanish unemployment rises again as summer tourist boom ends
Comments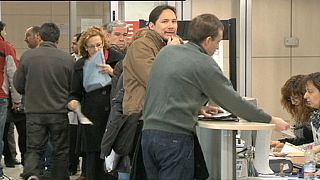 Unemployment in Spain rose for the third month in a row in October.
As the summer tourist season tailed off, so did the need to employ workers in hotels, restaurants and other service areas.
The number of people registered as jobless rose by 82,327 – up by 2.01 percent on a month earlier – leaving 4.18 million out of work.
Two weeks ago a separate survey by Spain's National Statistics Institute showed the unemployment rate had hit a four-year low of 21.18 percent.
The country is coming down from a summer boom which saw a record number of visitors.
But the reliance on tourism, which provides 11 percent of national output, exposes Spain to seasonal swings in the labour market.
Spanish jobless claims up 82,327 in October as labor market gives off mixed signals https://t.co/xrRq7hG6gqpic.twitter.com/cEjEIuDjSS

— El País in English (@elpaisinenglish) 3 Novembre 2015