Ryanair sets sights skywards after profit rise
Comments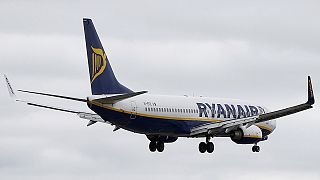 Things are looking up at Ryanair. The low-cost airline has revised its forecasts after posting a rise in six-monthly profits – up by 37 percent to a net figure of 1.088 billion euros.
The number of passengers rose by 13 percent; the company expects to have carried 105 million by the end of this financial year.
Ryanair said bad weather in northern Europe and the strong pound had encouraged people to travel.
Chief Executive Michael O'Leary has predicted a possible price war next year.
He puts part of the airline's recent success down to efforts to reform its image, in part by scrapping some annoying charges and improving customer service.
#Ryanair Half Year Profits Rise 37% to €1,088m; FY Traffic Grows To 105m as Guidance Rises Towards €1,225m https://t.co/YGtjzGij5m

— Ryanair (@Ryanair) 2 Novembre 2015
The airline has also benefited from insuring against the cost of fluctuating oil prices.
Mike Ingram from BGC Partners thinks fuel prices have helped most carriers including Ryanair.
"On a relative basis of course you would have to say it has thrown a real lifeline out to the full cost carriers, the legacy flag carriers, to the likes of Air France and Lufthansa and IAG even to some extent and you have to wonder if we did see a significant increase and sustained increase in oil prices how some of these carriers might then be struggling on and in that scenario of course, the likes of Ryanair and easyJet would be relative winners even though on an absolute basis no doubt their bottom line numbers would be hit," Ingram said.