Lukewarm response to Poste Italiane market debut
Comments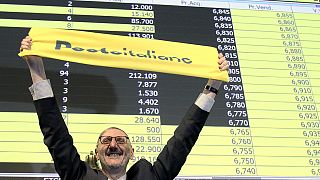 Italy's biggest sale of state assets in a decade failed initially to generate much excitement on the Milan stock exchange.
The government's disposal of up to 38 percent of the country's national post office is designed to raise up to 3.4 billion euros to cut the public debt.
Poste Italiane shares were trading at 6.75 euros – the mid-point of an initial price range of between 6.0 and 7.5 euros a share, in a bid to attract investment in the group.
The flotation puts under market scrutiny the 150-year-old post office which last year derived 85 percent of its revenue from financial and insurance businesses.
Its loss-making parcel and mail division accounted for only 15 percent.