France backs Greek efforts to renegotiate bailout
Comments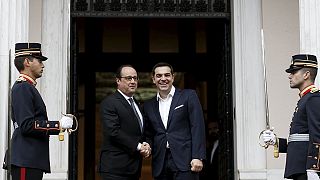 French President François Hollande rounded off a two-day visit to Athens by backing Greece's request to begin bailout negotiations with its international lenders by the end of 2015.
Greek Prime Minister Alexis Tsipras asked for flexibility in the negotiations.
"Certain people need to understand that Greece has signed a deal that it will adhere to. But, it did not sign a deal to surrender its sovereignty, nor did it agree to the destruction of its social cohesion," he said.
A bailout review is expected in November, 2015, after which Tsipras hopes to enter into discussions to lighten Greece's debt burden.
Following talks with Tsipras, Hollande made a speech in the Greek parliament.
"Coming here to Athens is also a salute to the lesson in democracy you have given in the past months. It is that of a people who became masters of their own destiny. It is a nation that faces the circumstances it finds itself under with courage," he told MPs.
Economic and commercial aspect
Hollande's Finance Minister and several members of the Cabinet travelled with him. In addition to politics, the trip had an economic and commercial dimension, with France signing deals to invest more in Greece.
Political analyst Giorgos Kapopoulos
said the deals were positive for France:
"Investing in Greece may be a long-term shot for foreign organisations. But in the case of France, the difference is that the deal combines business with its geopolitical and political interests."