Burberry shares plunge on missed sales growth forecasts
Comments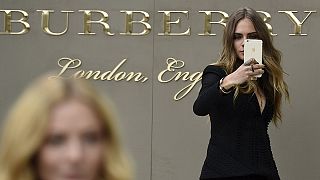 Burberry's shares plunged to a three-year low after the British luxury group warned that it had missed sales growth forecasts because of the slowdown in China.
Hong Kong and Chinese shoppers represent between 30 and 40 percent of the group's global revenue.
Burberry's stock fell 8.0 per cent in Thursday trading, plumbing to its lowest level since December 2012 and wiping 950 million euros off its market value.
Some analysts say the drop is no surprise.
"We've had an underperform rating on the sector throughout the course of the year so it is not unexpected to us. If you look at declining sales across LVMH, Switzerland's Richemont, look at the import figures for China – a 17.7 percent decline – so that's fairly reflective in terms of the news we have heard from Burberry at the moment," said Gerren O'Neill, senior trader with Thames Capital Markets.
Retail revenue rose 2.0 percent in the six months to the end of September to 774 million pounds (1,050 euros), below analysts' average forecast of 818 million pounds (1,110 euros) and a sharp slowdown from first-quarter growth of 8.0 percent.
Burberry says it is taking measures to limit the impact on profits, by reallocating marketing spending and reducing travel expenses – and is confident of a return to higher growth of 5.0 percent in the second half of the financial year.