Germany lowers 2015 growth outlook
Comments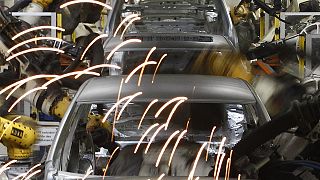 Germany has slightly lowered its growth forecast for this year, blaming the economic slowdown in China and other emerging markets.
The Economy Minister Sigmar Gabriel says the economy continues to grow and remains on track, despite the subdued outlook for the global economy with weaker growth in China and elsewhere.
In April the government had forecast growth of 1.8 percent this year in Europe's largest economy.
That has now been downgraded to 1.7 percent.
The forecast of 1.8 percent growth next year has been maintained.
"There's no doubt that the downturn in China and elsewhere in Asia and Latin America is having an impact, and to the extent that Germany has been the world's manufacturer of choice and especially of premium products, then I think Germany is going to begin to see some of the effects of that tailwind turning into very much of a headwind," said Nick Parsons, head of Markets Strategy at NAB.
The economy ministry expects foreign trade to make only a small contribution to growth this year – with the rise in imports out-pacing that of exports.
Estimates of government spending meanwhile have been increased mainly due to the influx of refugees.