Mixed results on China's trade sector
Comments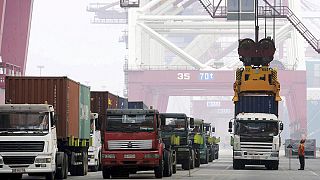 Exports not as bad as expected – but imports worse – China's mixed results have left economists divided over the state of the country's trade sector.
Last month exports fell 3.7 percent from the same period last year. Economists had been expecting a drop of almost double.
But imports tumbled for the 11th straight month – more than 20 percent down year-on-year – due to weak commodity prices and low domestic demand. It is expected to complicate Beijing's efforts to avoid deflation.
Combined figures for exports and imports were well below target.
The news increases the likelihood that Beijing will cut interest rates again and do more to try to arrest the slowdown.
In the words of one economist: "there are no green shoots in this set of data".