AB InBev and SABMiller agree takeover deal to create new beer giant
Comments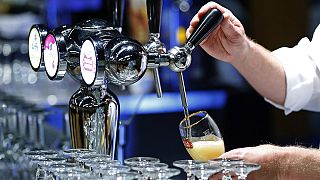 If at first you don't succeed, try try again. After being rebuffed several times in its bid to take over SABMiller, brewing giant AB InBev's perseverance seems to have paid off.
The two companies' boards say they have agreed in principle on the key terms of a deal said to be worth $104 billion (91 billion euros).
SABMiller – which owns Peroni – says its board is prepared to recommend the offer.
It's the biggest ever takeover of a UK company.
The maker of Budweiser and Stella Artois – already the world's biggest brewer – will be bigger still.
The new group will make about a third of the world's beer, and control half the industry's profit.
"My big question is whether it's good for consumers. Of course you're creating what some have called the OPEC of beer," said Mike Ingram, Market Analyst at BGC Partners. "It will have enormous global market share, enormous pricing power. And yes, of course if this deal is to be waved through by the competition authorities, there are going to have to be significant disposals both in North America and in China."
AB InBev says it's prepared to pay 44 pounds (58.8 euros) in cash per SABMiller share – more than the amounts previously offered.
It has also offered a partial share alternative structure for 41 percent of the company. SABMiller shares rose on the news. The parties have agreed that AB InBev will pay a fee of 2.6 billion euros if the deal falls through.
A new deadline of 28 October has been agreed for AB InBev to make a firm offer.
It's thought that one factor that may have hastened the deal is the impact of the slowdown in emerging markets such as China – as did a weakening of SABMiller's position.
The new group will give AB InBev access to Africa for the first time – and increase its presence in Latin America and Asia.