Saudi Arabia's Prince Alwaleed raises Twitter stake
Comments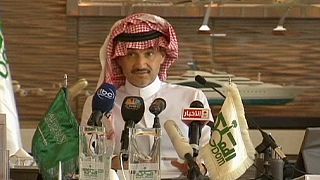 Saudi Arabian billionaire Prince Alwaleed Bin Talal and his investment company have increased their stake in Twitter to more than five percent, according to his office.
Kingdom Holding, which confirmed the move in a statement, has reportedly paid 44 million euros to double its stake.
The combined holding makes the prince and his investment company the second largest investors in Twitter with 35 million shares, a stake whose market value is worth nearly 900 million euros.
The disclosure comes in the week Twitter named co-founder and former leader Jack Dorsey as its CEO in a bid to recover the buzz of its early years.
الأمير الوليد وشركة المملكة يرفعان حصتهما في تويتر

Prince Alwaleed & KHC Increase their Investment in Twitter

7 Octobre 2015