The X-Files are back but the truth is still out there
Comments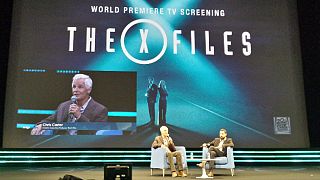 Agent Mulder and Scully are back on the small screen, writes Thomas Seymat from MIPCOM 2015, a world marketplace for entertainment content.
Thirteen years after its last episode, the X-Files made an eagerly-awaited comeback with a world premiere screening of the first episode of the tenth season at the prestigious Grand Amphitheatre of Cannes' Palais des Festival.
Without spoiling it, this first episode brings back the 1990s most iconic FBI agents, along with other characters, to the present day, as made clear by the repeated references to recent history (9/11, mass surveillance) and pop culture. Mulder is still on his quest for the truth, and Scully is still the scientist at heart, but time has driven them apart. Shaky smartphone footage has replaced blurry and grainy pictures of UFOs, and the internet has replaced fax machines.
Chris Carter, the original screenwriter, still holds the rein of the series, which never left his mind. "Everyday I would pick up the newspaper, read a headline, and see a possible X-Files episode," Carter told the audience after the screening.
He's not the only one back on the show. A couple of the original writers are too. "I love working with friends," Carter, for which X-Files now represents the third of his life, said. "The first production meeting for the new season was actually emotional."
Keeping the old X-Files credits
In a TV industry which increasingly looks back to find new ideas (the planned reboot of Full House being the most recent evidence), nostalgic fans will be happy to know that the series' iconic credits and soundtrack have been left untouched. "It would have been sacrilegious to change it," Carter admitted.
It took Carter and his team eight months to film the six episodes of this tenth season which will be, he promises the audience, a mix between episodes revolving around the X-Files mythology and stand-alone "monster of the week" episodes. Age, he said, gave him a different eye, a different sensibility, which translated into a different approach in his work. He also said that global politics, technology, and recent conspiracies will be key in the plot of the season.
Carter, who finished filming a mere month ago, promised a tighter, "sharper narrative arc" over the six episodes, compared to the 22-25 episodes of the seasons past. He hinted at coming surprises, including old recurring characters coming back.
Asked about a possible 11th season, he admitted "I don't know if there's more to come," but "there will be opportunities if we do well" and if the audience likes the new X-Files. And, asked about the tendency of modern TV to do never-ending shows, he joked: "Mulder and Scully will be in wheelchairs by the time the show is finished."