A painful Q3: global markets grim after worst quarter in years
Comments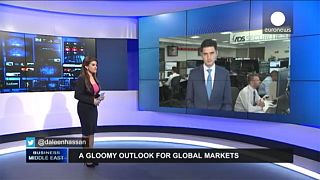 In four years the financial markets have not hit seen such lows as they have done in third quarter of 2015. Successive declines hit global stocks, which ended the term with severely negative results.
The outlook remains unclear for the next few months, as there are no solid economic numbers on which to build estimates.
The hardest hit were the emerging markets in Asia, where the third quarter ended with significant losses. The Shanghai market saw a mass selling-off on Black Monday, August 24. The impact was felt through to the end of the quarter. It plunged more than 26%. The Hang Seng shed even more. Singapore dropped by 20%, while the Nikkei's losses were less severe at 12%.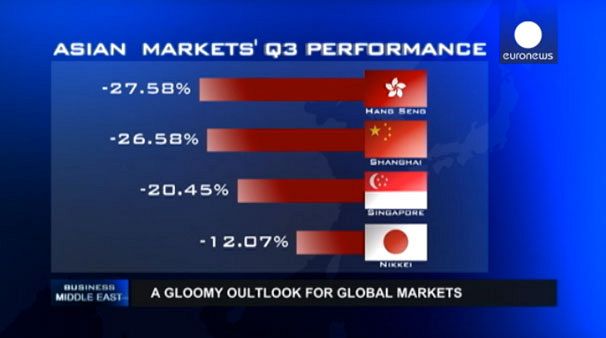 In the Middle East the pain was felt mostly in the GCC countries and Egyptian markets. Their harsh quarter was exacerbated by falling oil prices. The least affected markets in the region were Abu Dhabi and Dubai, with losses of around 12%. Saudi Arabia endured a torrid time, plummeting by close to 19%, while Egypt's bourse slid by more than 14%.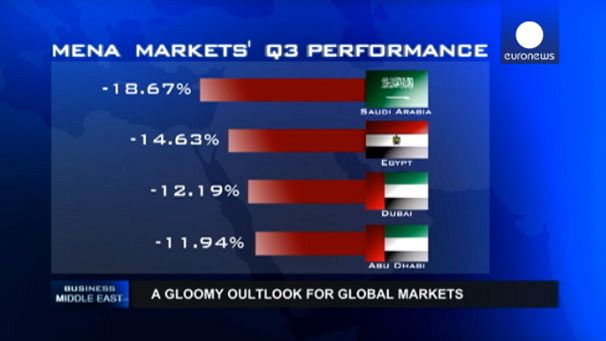 European markets posted the worst performance since the eurozone debt crisis in 2011. Stocks fell due to several factors, including the Volkswagen scandal, Greece's ongoing problems and the immigration crisis.
The DAX index ended the third quarter with a decline of almost 13 percent. Spain and the UK were down more than 11%, while France fared somewhat better, taking an 8% hit.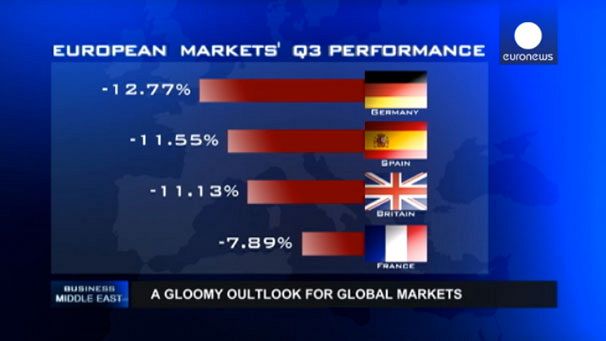 In the US Wall Street didn't escape the negative wave. The Federal Reserve's repeated decisions to postpone raising interest rates have taken their toll.
Q3 ended with the S&P 500 down, more than 7%, and the Dow Jones cut by more than 8%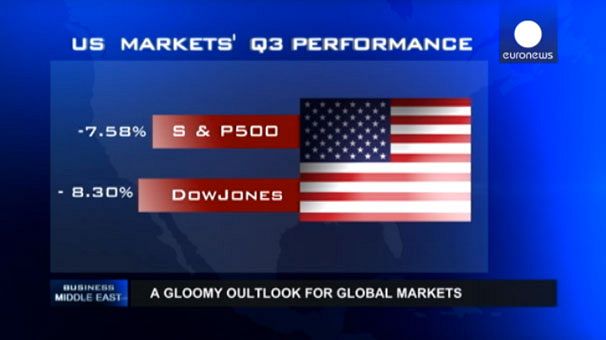 Investors are now anxiously waiting for the corporate earnings season this month. Many companies have revised their forecasts down, with a pessimistic outlook for 2016.
MENA

perspective

For an analysis of this grim period Daleen Hassan spoke to Nour Eldeen Al Hammoury, Chief Market Strategist at ADS securities in Abu Dhabi.

Daleen Hassan: "The third quarter ended with significant losses for global markets. To what extent could this trend continue and what's the outlook if it does?"

Nour Eldeen Al-Hammoury: "For the moment, the uncertainty mode is still controlling the markets, especially after the release of the US jobs report last week. The outlook remains unclear for the next few months, as there are no solid economic numbers on which to build estimates. However, the situation that we have seen in Q3 of this year, might still have a negative effect on Q4. So traders need to be very cautious in the coming weeks."

Daleen Hassan: "Like global markets the MENA markets were affected by lower oil prices. What could affect the Middle East region markets in the upcoming period?"

Nour Eldeen Al-Hammoury: "Of course, the Middle East/North Africa region equities have always been affected by global developments. However, the oil factor also remains the main driver, despite the fact that we have noticed some level of stabilisation. But we've also seen some declines which did not help those equities. Moreover, geopolitical tensions in the region, including Yemen, have put more pressure on the markets. The estimates are also related to the global picture. If the geopolitical tensions continue, this might continue to weigh on the MENA region, especially after the Russian intervention in Syria.

Daleen Hassan: "As we know when market performance fails, the trend shifts to safe havens. Why has gold not really taken advantage of this opportunity?

Nour Eldeen Al-Hammoury: "Gold usually rallies on two factors, uncertainty and inflation fears. In the past few months, uncertainty over the global outlook has kept bids on gold for some time, but it has only stopped the sharp decline in gold, which happened this year. As for inflation, the estimates for future inflation are sharply on the downside and there's no hedge bid in this situation. When inflation estimates improve again, gold may benefit more than now."

Daleen Hassan :"All eyes are on the corporate earnings season now. Companies have cut their forecasts. Is that a proactive step ahead of negative results?

Nour Eldeen Al-Hammoury: "It's definitely possible. As we know Q3 has been the worst in years, which of course leads companies to cut their estimates, especially in terms of global demand and earnings estimates as well. However, we still need to wait for further evidence and to look at the Q3 earnings. Estimates can be right or wrong. Moreover, we shouldn't forget that capital investment companies around the world cut their estimates and also took the decision to lay off some of their workforce, which also fuels market uncertainty."