US jobs growth stumbles, fueling economy fears
Comments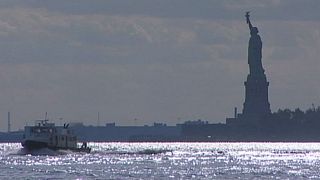 American employers shied away from hiring over the past two months and wages fell in September.
What one analyst describes as "a pig of a report" could fuel fears that the Chinese-led economic slowdown is stifling the US recovery.
Payrolls outside of farming rose by 142,000 last month and August figures were revised sharply lower to show only 136,000 jobs added that month, the Labor Department said on Friday.
Economists had expected more than 200,000 new jobs to be created in September.
The figures represent the smallest two-month gain in employment in over a year.
Job growth should have been enough to push the unemployment rate down, but it held steady at 5.1 percent.
The share of the population in the workforce fell to 62.4 percent, the lowest level since 1977.
Average hourly wages fell by a cent to $25.09 during the month and were only 2.2 percent up on September last year.
The number of hours worked in the country fell slightly, by 0.2 percent – another worrying sign.
All this raises new doubts that the economy is strong enough for the Federal Reserve to raise interest rates by the end of this year.
Investors may be even more sceptical of the view previously expressed by Fed chief Janet Yellen, that such a move may be necessary.