Electric shock as Tesla's Model X SUV finally launched
Comments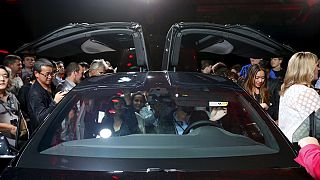 There was an electric shock for the SUV market, as Tesla Motors finally delivered the first of its long-awaited Model X vehicles – to a generally positive reaction.
It marks a milestone for the loss-making Californian carmaker, putting a second model into production alongside its Model S.
Tesla's CEO showed off the new car at a special evening ceremony, emerging from inside the vehicle via its vertically-opening doors.
"As you guys know, it's incredibly important that we move to a sustainable world sooner rather than later. The sooner we do it, the better it is," said Tesla's CEO Elon Musk.
After a series of production delays the car is nearly two years behind schedule.
Some 25,000 buyers who pre-ordered the Model X will still have to wait for several more months to get their hands on the car.
However investors are counting on the new product to make the pioneering company profitable after years of losses.
Tesla also hopes it will revive the loss-making firm's fortunes, and – amid certain scandals over conventional fuel – help usher in the electric car era.