Hungary: Refugee controls hit cross-border trade
Comments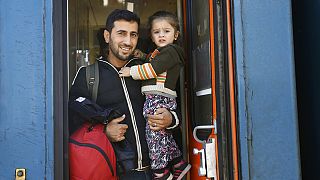 Border restrictions due to the refugee crisis are having a damaging impact on European companies who rely on international trade.
We can't fulfil our obligations and for this we pay late payment surcharges, so if this situation carries on... transport costs will probably increase
Near Hungary's frontiers the queues sometimes stretch between 20 and 40 kilometres. All vans are checked to make sure they're not carrying migrants.
One of Europe's largest haulage companies, Waberer's International, has 3,500 lorries and an income of 550 million euros a year.
The firm has suffered a dent in its income of three to five percent because of the crisis, and fears that if the situation continues its profits could be wiped out.
"We cannot fulfil our obligations and for this we pay late payment surcharges, so if this situation carries on for a long period, then transport costs will probably increase," said the company's Chairman and CEO, György Wáberer.
It's too early to assess the impact on tourism in Hungary. Before the crisis worsened over the summer, the sector grew by a healthy 17 percent during the first six months of the year.
More recently some hotels have reported tourism and business cancellations. Although most people are unaffected, some have experienced problems.
"The refugees crossed the train line so police had to stop them so we had a one hour thirty minutes late," said one young female tourist from South Korea.
Another young woman, from New Zealand, reported no difficulties so far.
There are warnings of disruption to transport and trouble at borders – but Hungary's tourist organisation has launched a campaign to reassure visitors.
"We still don't see a tendency,figures about this situation will only be available after one to two months, but for now the situation we see in Budapest is great, there are still a lot of tourists, the numbers are good and I think it is worth coming to Budapest and Hungary because today this still a safe country," said Péter Faragó, Chief Executive of Hungarian Tourism Ltd.
On Monday the government reported that Hungary's tourism sector was set to hit record highs in 2015.
Most economists say the long-term impact of the refugee crisis should be positive for Europe.
Off the migrant trail, euronews correspondent Andrea Hajagos said tourists were continuing to enjoy Budapest: "Most of them have not been put off by the refugee crisis in Hungary. This can be seen here, where even on a weekday the square in front of the Saint Stephen Basilica is full."