Fonterra profit up 183% despite dairy industry woes
Comments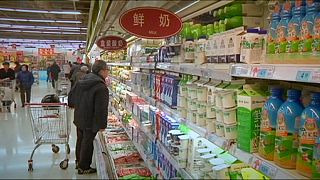 The world's largest dairy exporter and New Zealand's largest company, Fonterra, has reported a rise in full-year profit of 183 percent.
In the year to July 31 net profit was NZ$506 million (282 million euros), up from NZ$179 million (100 million euros) a year ago.
The rise comes despite what the chairman described as 'extremely challenging trading conditions'.
The irony is that low milk prices have helped Fonterra's brands reduce their costs. In addition it has made money from its own products.
Despite the struggling dairy industry which has forced Fonterra to shed hundreds of jobs, the chief executive received a reported 18 percent pay rise.
The company's annual result showed that Theo Spierings' salary for the year to July 31 was as high as 4.39 million euros – a rise of 684,000 euros.