Volkswagen shares tumble in line with company's reputation
Comments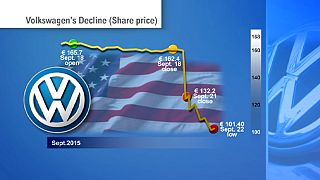 There are fears that the Volkswagen scandal could hit not just VW in the long-term, but the wider German and European car industry.
In Germany the sector is vital to the country's economy and Volkswagen is one of its most valuable brands.
Its supervisory board is to decide the fate of CEO Martin Winterkom on Friday.
VW's shares have dropped by a third over the past few days, wiping 25 billion euros off the company's market value.
The share price hit a new low on Tuesday before ending the day at 106 euros. Volkswagen is setting aside billions of euros to cover costs related to the case.
"The first provision this quarter is 6.5 billion (euros). With probably 11 million vehicles affected, that's just under 600 euros per car which is possibly not enough, not least because so far, no one knows what the damage to VW's image might be," said Ascan Iredi, chief investment officer with Flatex.
According to one consultancy, VW is worth 10 billion euros.
It sits at the pinnacle of a German car industry which accounts for around one in five jobs.
The Volkswagen group includes a host of household names: Audi, SEAT, Skoda, Porsche, Bentley, Bugatti, and Lamborghini.
Now VW faces a testing PR battle. The scandal undermines its push into clean diesel, at the heart of its efforts to develop environmentally-friendly technology.
It could also have an effect on other carmakers, although rivals insist the accusations don't apply to them.
The case could also have an impact on Germany's exports: highly important to the country's economy, they make up more than 45 percent of GDP.