Syriza prepares for post-election 'big battle' over Greek debt relief
Comments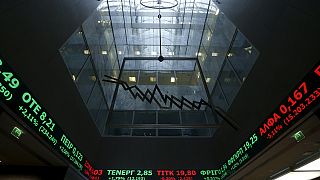 Reviving Greek banks and the country's crippled economy will be the government's priorities – along with demanding debt relief from creditors – so says Syriza following the left-wing party's re-election. An official said debt relief would be the 'first crucial battle' after the vote.
But it has little room for manoeuvre.
The bailout terms Prime Minister Alexis Tsipras agreed to in July point the way towards tax rises, spending cuts and market reforms demanded by creditors.
"I am not sure the victory for Tsipras today really changes the outlook for Greece in terms of its economic position and outlook as we look forward. Yes it gives them a mandate for the reform agenda which has been signed off by the eurozone and the IMF but significant challenges still remain in that implementation," said Matthew Beesley, Head of Global Equities with Henderson Global Investors.
So far there has been no sign of the market shudders that followed Syriza's election in January.
This time it secured enough seats to be able to govern with just one coalition partner – also stridently anti-austerity.
"The market wanted a government with more parties, and a larger parliamentary majority. The market will wait and see. First, it must see the first steps the new government (takes), to see who will be in charge of the most crucial ministries, and the first actions taken," said Evangelos Sioutis, Head of Equities at Guardian Trust Securities.
"Tsipras managed to convince a large part of the electorate that he was a tougher negotiator than previous governments," said Mujtaba Rahman, of political risk consultancy Eurasia Group.
"The return of a second Syriza-ANEL government will concern Greece's creditors …(and we) maintain a 30 percent risk of Grexit over the next two years."
Prime Minister Alexis Tsipras is expected to announced his cabinet by Wednesday.
Congratulations atsipras</a> on the electoral results of last night. <a href="https://twitter.com/hashtag/GreekElections?src=hash">#GreekElections</a> <a href="http://t.co/cE2NidrH0t">pic.twitter.com/cE2NidrH0t</a></p>&mdash; Jean-Claude Juncker (JunckerEU) September 21, 2015